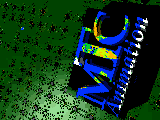 MTC Animation - (2725 k)
Jun 1992
Lots of frames! A flight over a large plane toward and around a logo for a past business of mine, before I learned to leave business to business men and stick to creative stuff. Neat trip!

Under construction-I wasn't going to let this one page stop my launch. I should have it up and running soon within a couple weeks. Visit the downloadables section for a bunch of globe animations.