(From 'Eagle's Propwash' EAA Chapter 113 Newsletter, Dec' 05 & Jan '06)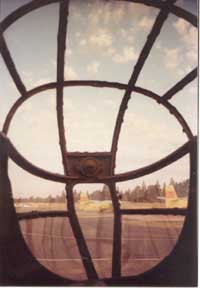 I read with great interest the "Flight of a Lifetime" article in last month's newsletter. It told of Kevin's ride in a B-25 and his reaction to the noisy environment inside a WWII Multi-engined bomber. For those of you who weren't lucky (or unlucky) enough to have experienced that, I'd like to give you a feeling of what it was like. But first, seeing a picture out of the glass nose of a B-25 took me back to early 1942. I quit my job with NACA in Hampton, Virginia in early spring of the year when I found out that experienced engineers that worked there wer being drafted into the military even though they had years of seniority. I figured i didn't want that to happen to me. So, I left Virginia, came home and decided to wait until I turned 20 years of age and then I would enlist in the Air Corp as an aircraft mechanic. While waiting those 5 months or so, I got a job with GM. They were maing sub-assemblies for the B-25. When I impressed them with my vast knowledge of aviation (a joke, it was all with models), I became an inpector on the sheet metal cowling pieces for the engines. Primarily, checking the dzus dimples for cracks and deformity. I also watched how they formed all the Plexiglas. This was done over felt lined molds.

In late October, I enlisted and left for Camp Custer, Midland, Texas, San Antonio and finally Laredo on the Rio Grande. I worked on AT-6's amd AT-11's (these were surplus Lockheed Hudsons that England didn't want). We used them as target towing planes for the gunners we were training at the field.
Then one glorious day, i was asked if I'd volunteer to fly in the B-24's that were comng to our field soon, as a flight engineer. Naturally, I jumped at this opportunity.
Easter Sunday morning, 8 of us were flown in a B-24D to Smyrna, Tennessee for 6 weeks of learning the inner workings of the big bomber, flying as student engineers and shooting numerous touch-and-go's for hours on end. My job was to watch the student pilots' make every move to make sure they hit the right switches and the right handles. So as a buck private, I had the authority to boss over officers of any rank up to generals as long as they were students. And later, we actually had a 2-star general come through the aerial gunnery program. The enlisted men who successfully finished the course, were promoted to staff and went overseas.
When we got back to Texas after schooling, there they were, eight brand new shining silver B-24H model ships flown directly from Willow Run, Michigan. I was assigned to #373, Serial #42-95425, estimate unit cost: $291,000. Now the Fun begins...
Time: April 1943, Place: Laredo Army Airbase, Texas. With the arrival of our brand new planes from the Ford Willow Run plant in Michigan, we began flying aerial gunnery training missions. Up through the 8,000 ft. dust and smoke layer, into the clear blue at 16,000, the six gunners fire color tipped 50 caliber shells at towed silk targets or later on, directly at armor-plated Douglas A-20's of Bell P-63's with frangible (plastic disintegrating) bullets which recorded on contact. At this altitude, regulations say that all personnel wear their oxygen masks (above 10,000 feet or from ground up at night). Up front on the flight deck, the pilots and I seldom put the masks on because at rest, one doesn't really need the mask. But if you do anything strenuous, you can grab the nearest oxygen hose and take the necessary breaths. The missions noamally lasted about four hours, but the gunners' ammo ran out in less than two hours.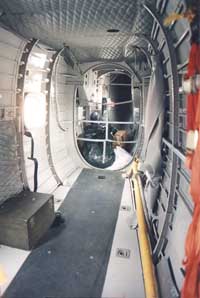 As crew chief on the plane, I made sure they cleaned up the whole area, picking up all the spent casings and kep students off the paper-thin bomb bay doors which rolled up outside of the fuselage. We would usually open the doors about 6" or so to get rid of ant gasoline fumes in the bay area. We all wore jackets that a chest pack chute snapped into. Never had to use one, fortunately! I never got to fire the guns, but the pilots would on occasion. Then I would fly in the copilot seat and get a little "stick time". I had different pilots on each flight, so I had various experiences with them. On one flight, being about 80 to 100 feet above the desert on a ground target mission, both pilots left to go back to the rear of the ship. The pilot just said, "Take over, Chief." Not asking if I knew how to fly this monster. They just assumed I could. So there I was, soloing with all the noise of the plane, guns firing, and climbing over gentle hills with the ugly smell of the cordite from the nose turret. I flew the range for about 10 minutes. I suspect the pilot stood somewhere behind me, watching closely. At least I hoped he was. I was greatly relieved when he returned. What's when I realized what just happened.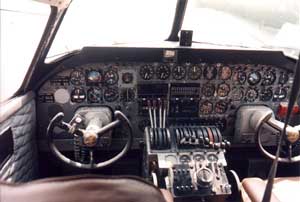 Another pilot who I befriended would put me into the copilot's seat and let me make gentle turns. On two occasions, he distracted me to look out the right side of the plane. Then he would chop the two throttles to idle on the left side. The plane suddenly veered to the left and lost altitude. He'd say calmly, "Straighten it out, hold your altitude and fly straight ahead." This was a real challenge. It took full right stick and full rudder pressure. It took two feet on one pedal because of the buffeting of the twin tails caused an uneven airflow over them from the inboard engines. When I finally had the plane holding altitude, and in a severe crab, flying level, he would finally ease the power back still instructing me to "fly the plan." These were my initial flying lessons, well learned. After the war, when I learned to fly the J-3 Cub, it was a snap.
My military experience was almst totally in Texas as permanent personnel where we closed the airfield in 1945. I had almost 400 hours in a B-24 and later, 55 more hours in B-17's before the war ended and the planes were sent away to Walnut Ridge, Arkansas for demolition. That field was fence-to-fence airplanes, all being scrapped. Not very many were saved. The best museum for these old birds is Davis-Monthan Museum in Tuscon, AZ. They're across the street from the largest aviation junkyard. Whis was my contribution to the WWII war effort. I can best describe my time in the military as a great adventure and 40 months as a Young Eagle at Club Med. I appreciate what the other service men contributed by dying and suffering disabilities while mine was a good experience in total safety.
As a seperate note to all our senior citizen members, after my recent heart attack in Late November, I'm now on a menu of several medicines. With the new Federal Drug Program starting, those of you who are veterans can sign up with the VA at prices even lower than Costco, Which is hard to beat.
---
Len Marzewski
Past President
EAA Chapter 113