Maverick's Competition, 12 Feb 2016


Nine hours on a boat watching the awesome waves of Mavericks followed by the Awards ceremony to see who got the Trophies I built. An excellent day!




Burning Man 2015 project: Sun Tower

(September 2015)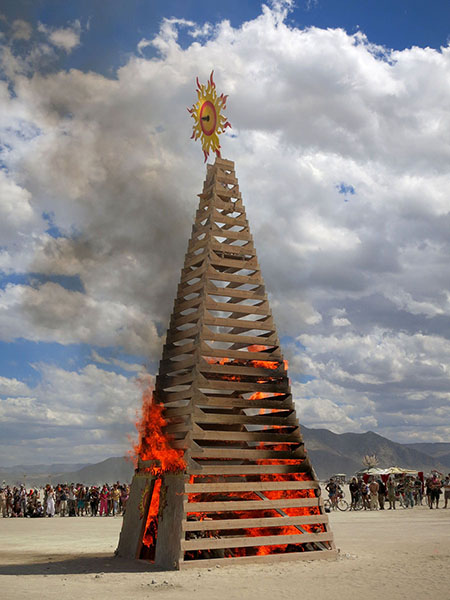 Results: We tried for about 20 minutes to use sunlight to catch it on fire unsuccessfully. Then I pulled a couple road flares out of my back pocket and approached the crowd and asked "How about plan B?", to which the crowd cheered and I lit the tower from the bottom.




Burning Man 2015 project: Sun Tower

(June 2015)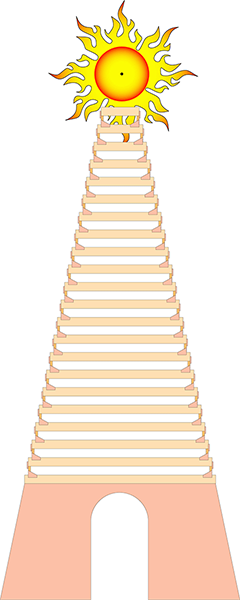 2228 year or so after Archimedes is said to have destroyed an attacking Roman naval fleet using mirrors, we will bring the Sun Tower to the playa and try to set it on fire the same way.

This 32' tall climbable tower will have an 8' sun shaped mandala at the top. On Friday around 1pm, hundreds of participants around the perimeter will be given mirrors to reflect sunlight at the center of the mandal where a target wad of cannon fuse will catch fire and set the rest of the tower alight.



Mavericks 2015 Trophies

(March 2015)
Mavericks is a special surf spot a mile off the coast of Half Moon Bay, CA. Most winters, storms coming in from Alaska raise waves that can range up to 50' tall or more. Mavericks was first challenged in the 1960s by a handful of brave surfers and by 1999 the first competition was held there. In Northern Califonia, where I live it is a place of legend.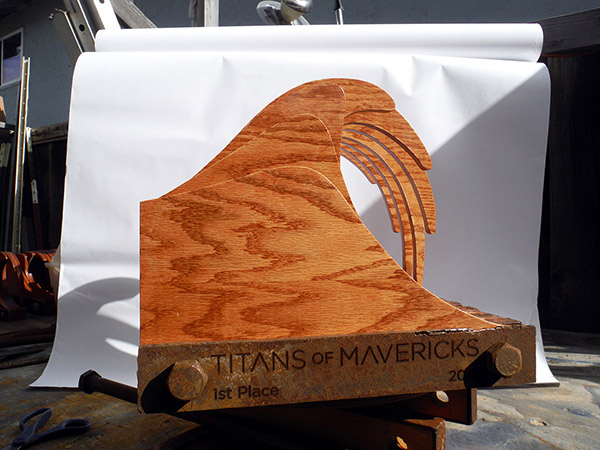 Before burning man 2014, I was contacted by Griffin Guess of Cartel-Management. His Marketing company is currently promoting the Maverick surf competition, and after seeing the model for Cruz the Wave (see below) he asked if I might be interested in making trophies for the competition. A month or 2 after BM 2014, we hooked up and I began making trophies for 1st, 2nd and 3rd places as well as a special trophy honoring Sion Milosky.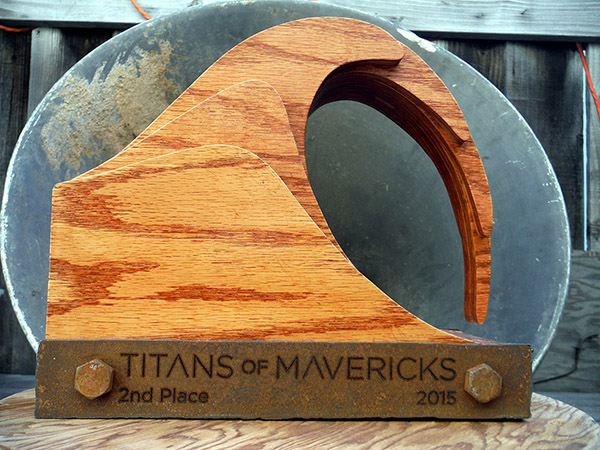 Now that they have started to display the trophies I've made on their facebook page, I can show most of the images I took while building these trophies. I am very proud of how they came out and want to thank Cary McHugh for all the metal work he did as well as John Schiesel for the use of his shop and his help with the finishing of the trophies.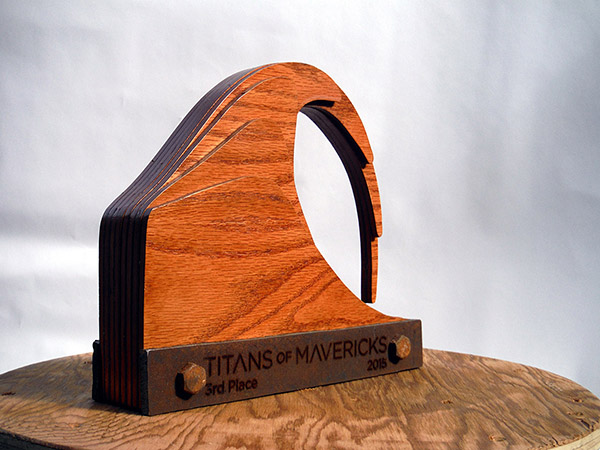 Click any of the trophy images to see more photos and some of the steps in the making them.

See the Titans of Mavericks web site and their FaceBook pages for more info.


Cruz the Wave: building a big wooden surf wave for Burning Man 2014 with Santa Cruz Burners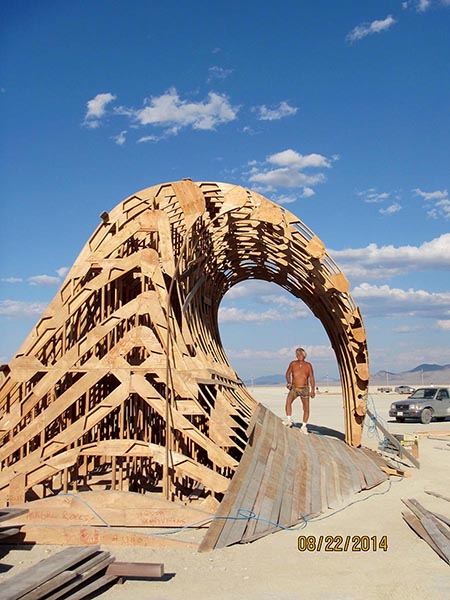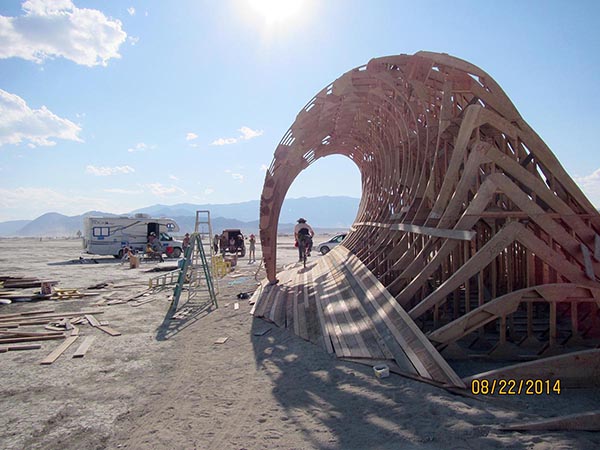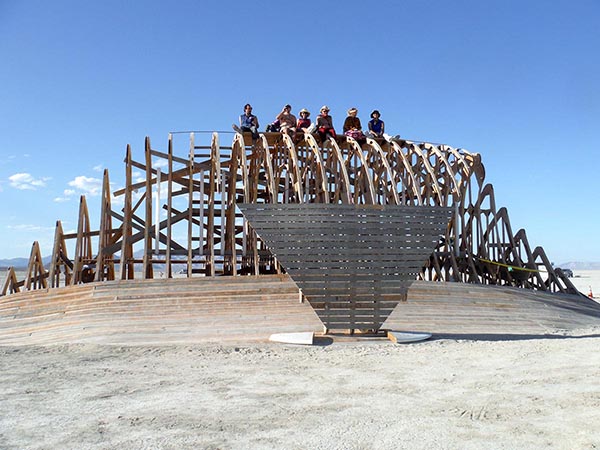 One of the prototype models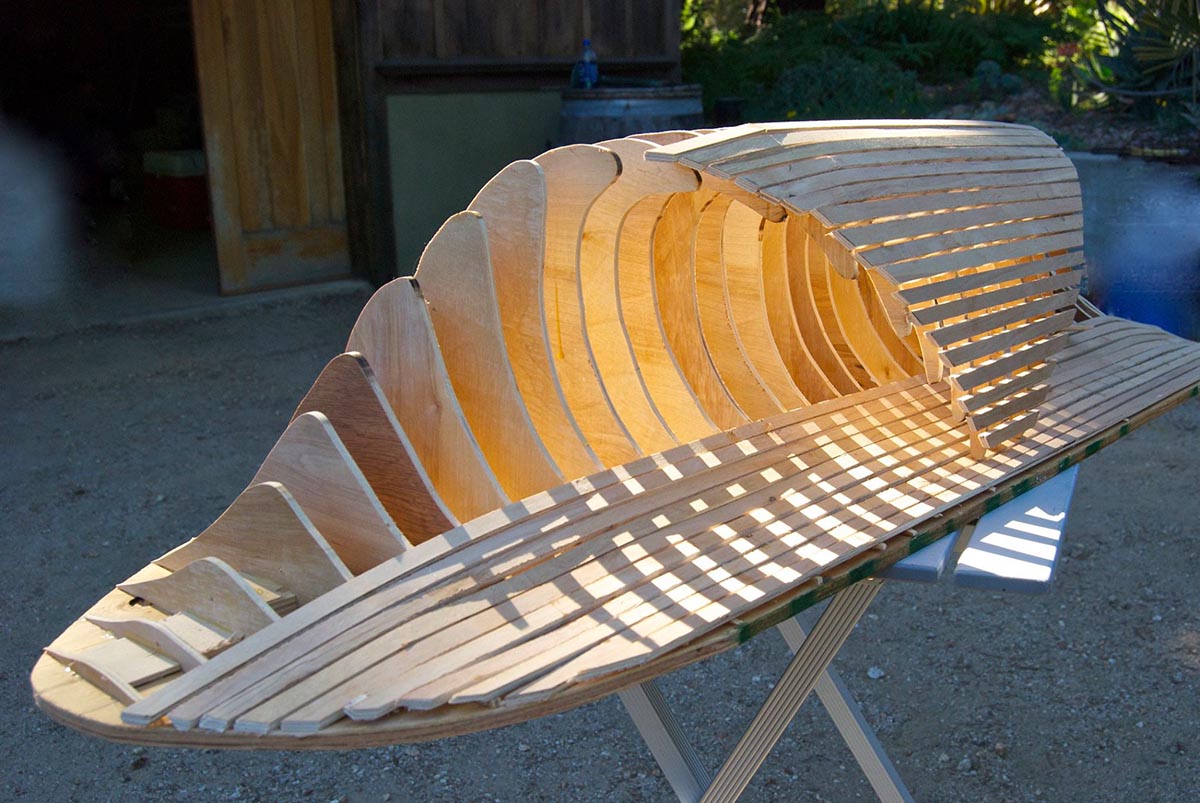 Getting married under the arch at Burning Man 2013! (28 Aug 2013)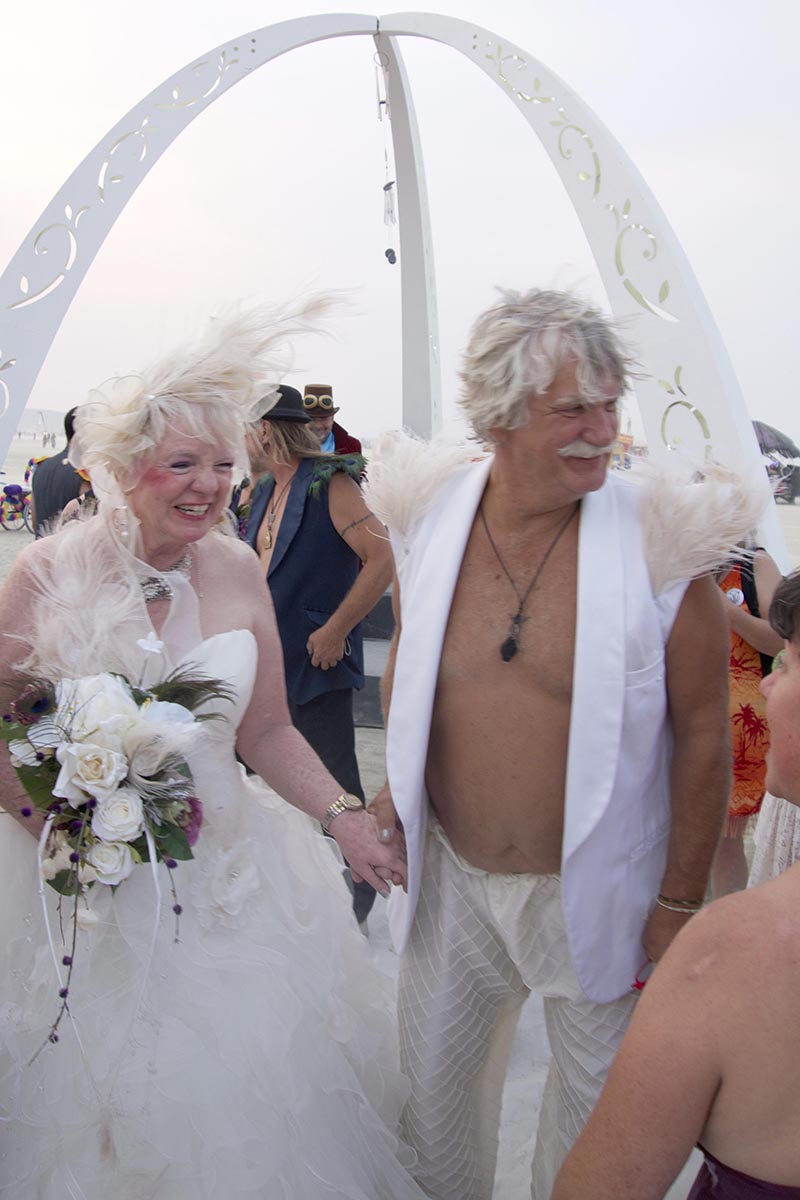 2013 brings my marriage to Gwen (Atta Girl) Jester at Burning Man. I am building a wedding arch as the locale for the ceremony. You are invited to attend.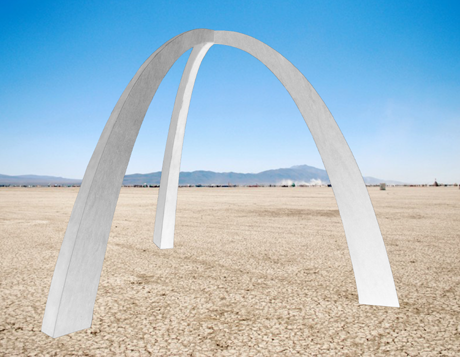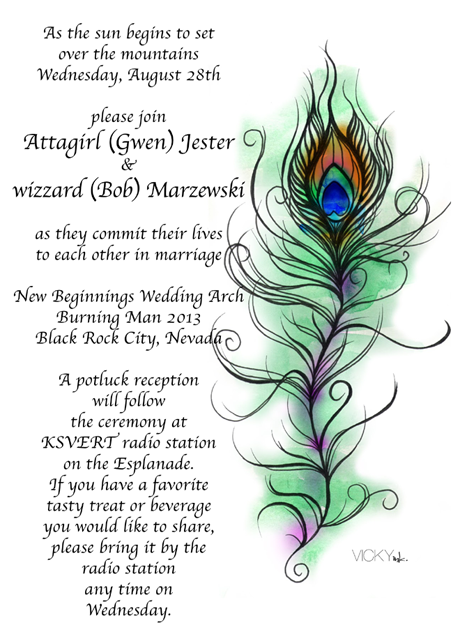 2012 brings my most complicated burning man project yet: the Mayan TRIcycle.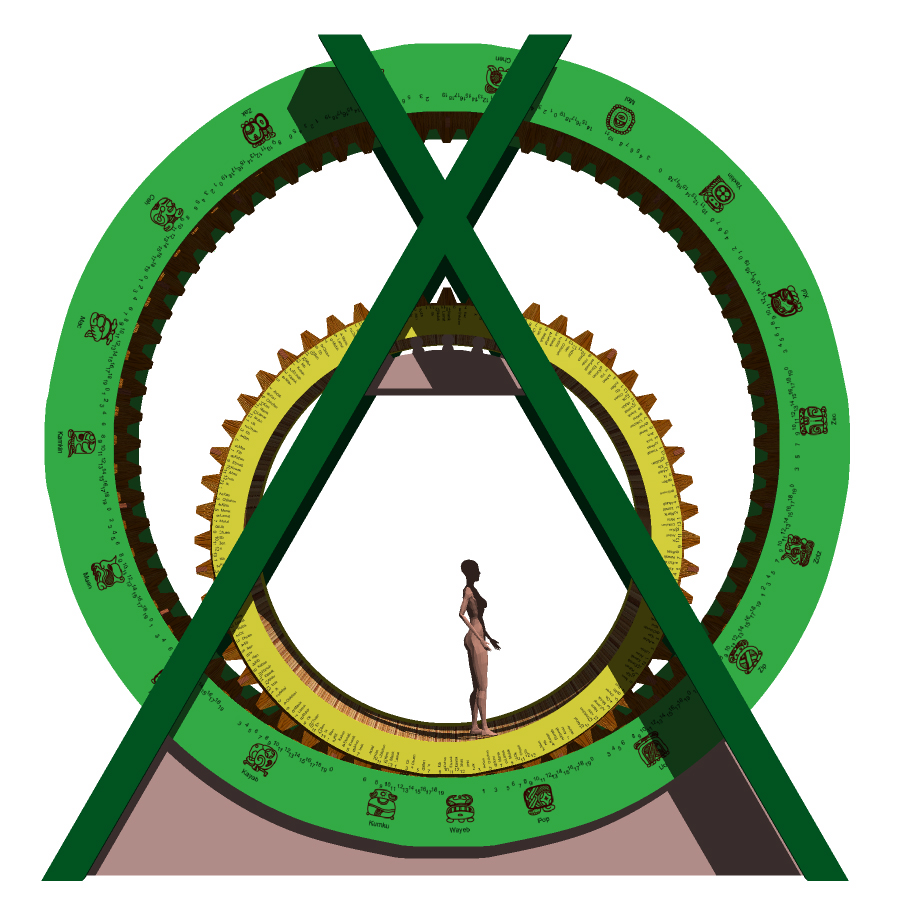 My hope is to help others understand how the Mayan Calendar works and to help alleviate the fears that many have that the world as we know it is going to end on December 21st when the calendar 'ends'.  I believe that the cycle is just turning over, much like the odometer in your car does.

To show this in a dramatic and fun way, I am planning on building the Mayan TRIcycle.  The 260-day Tzolkin Calendar will be a 13' tall wheel, driven/rotated by humans running inside the wheel.  The 365-day Haab Calendar will be a 22' tall wheel that the Tzolkin calendar wheel is cradled in.  Together the two wheels will rotate and will advance the Long Count "Odometer". 
 
I'm still designing how the final piece will look and function. I've built thigs this big before, but not anything that will need this level of precision to work. I need help both in people with skills and in raising money to bring this project to the desert this summer. Please take a look here to learn more. If you'd like to contribute to this effort, go here:
MayanTricycle


[2011] Before the blog and social neworks existed, nerds had their own domains. This one is mine. It's been in nearly continuous operation since 1995.
I started using computers in 1968 when in high school. We had a first generation vacuum tube computer the size of a CEO's desk that would heat the classroom in Michigan in the middle of the winter. We also had a terminal with paper tape puncher/reader and a 300baud modem hooked into a computer at Ford Motor Company many miles away. We paid a fee for the connect time and much more for 'think' time when the processor actually computed our programs.

My how times have changed! Even though my computer is several years old, it packs more power than that Ford computer 40+ years ago and my lousy Comcast connection is hundreds of times quicker. Everyone has a presence on the internet.
Oh, yea I do have my own blog.