Light at the end of the tunnel? - late August 2020


It's 21 Aug 2020 and now there are 23 million cases/800k+ deaths from Covid-19 worldwide with 5,794,202 of the cases in the US. (We tried lockdown a little in the US and people couldn't deal with it. Wearing a mask has become a political statement, and we have a president that says that we won't let the science get in the way of restarting schools. Madness from a mad man.)

My wedding anniversary is a week away and I should be at Burning Man right now.

I haven't updated the site for a while because I've been caught in a Groundhog's Day situation for the past few months where my days follows this general pattern:

[loop]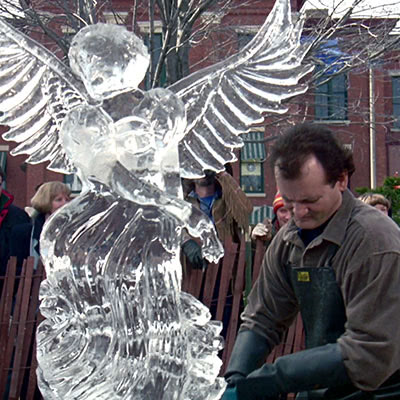 Up before dawn to a cool house to turn off several fans and watch a bit of morning news. Soon its time to walk the dogs, water the plants, feed the dogs, feed the pigs, feed the humming birds and the bluejays, avoid the Mosquitoes by sitting in front of a fan or fleeing into house as needed. Retreat to the house around noon when the temp is approaching 100 degrees, try to nap or watch TV until 3:ish when the sun has gone behind the trees next to the trailer and we start getting some relief though the temp usually peaks around 6pm. We've see 100+ highs almost every day for a month until a few days ago when we added the other new normal for California; smoky skies with a red sun casting weird strange sadows while a light 'snhow' of fine ash falls and collects where the air is still. At 4:00 the dogs and I and often Gwen walk to the irrigation canal past the walnut orchard to the 'waterfall' where the canal depth is regulated with some short 2x4s. (Some days the water flows like a flood, others there is hardly a trickle.) Luna likes to bite at the water, Ava likes to move stones around that we toss to her. Gwen and I just like to cool off in the water. Back home to rinse off the dogs and ourselves or else itch later. As the evening cools the air, perhaps I get a bit of work done on the Phoenix if the mosquitoes are not too thick. Gwen is probably barbequeing some amazing treat for dinner. Dinner in the hot trailer away from bugs, a bit of TV and ice cream most likely before slipping into a hot bed early with several fans on to cool the trailer for the morning.
[/loop]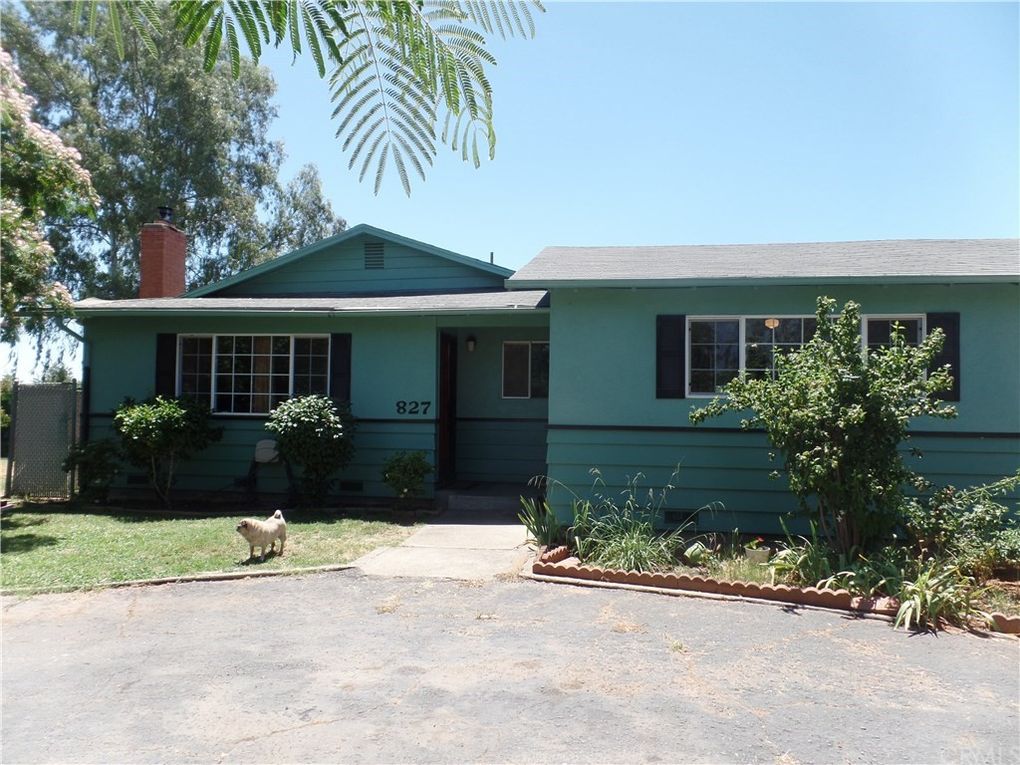 The possible light at the end of the tunnel is that we MAY be closing on that same short sale for the house in Oroville around the 14th of September. Maybe start moving out of the 36' trailer and into a home of our own nearly 2 years after the fire. Yeah!

Can't wait to see if it happens this time.




Corona Virus Update 2 - still April 2020


It's still April and now there are 3 million cases/200,000 deaths from Covid-19 worldwide with about a third of them in the US. Lockdown has been going on for 4+ weeks. Burning man 2020 has been canceled, but I'll continue writing about the Phoenix under the burning man 2020 banner.

The first draft of the Arising Phoenix pages are now available here. Ive still got lots to add but want to post what is done now. Take a look and check back in maybe a month for more progress!.



Corona Virus Update - April 2020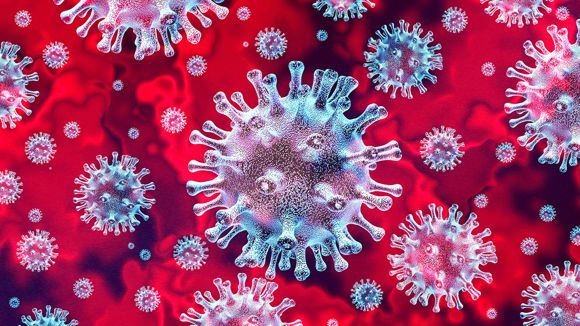 As I write this update, there are 1.1 million cases/60,000 deaths from Covid-19 worldwide with about a quarter of them in the US. The curve is on the upward swing; I think We've been in lockdown for more than a week here in California and the internet is going nuts with people going nuts over cabin fever.

For me, lockdown has been hardly different to my usual hermit/retirement ways so far. With some luck, I'll be around to add several more updates.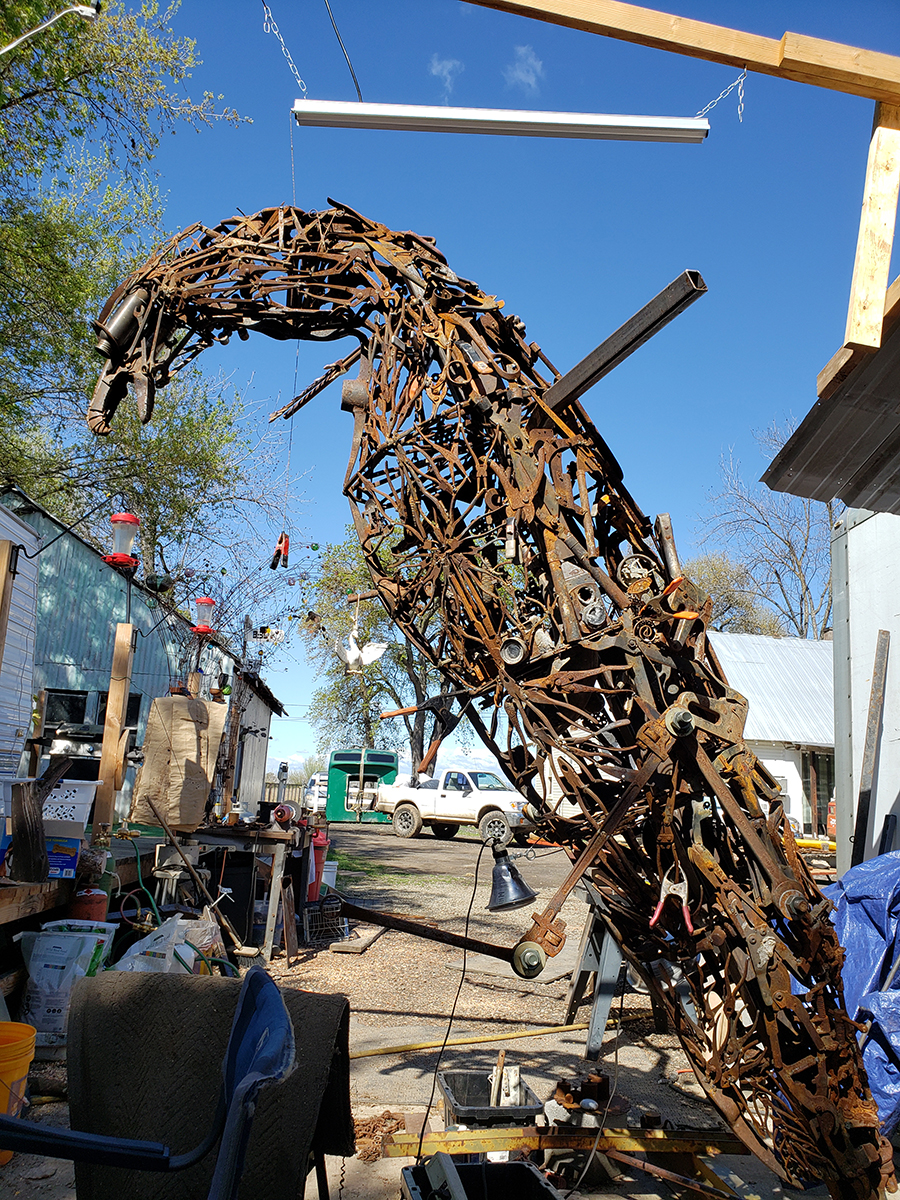 Building a Phoenix - Early 2020
The phoenix bird is a mythical bird from Greek mythology. ... The classical, mythical imagery and symbolism of resurrection, of life reborn anew and transformed, resonated with the Christian story. The phrase rise like a phoenix from the ashes is often shortened to rise like a phoenix, or even rise from the ashes.
As of this time I am well under way building a 12'+ tall Phoenix bird using the parts we collected from the Camp Fire. The body is nearing completion and main feathers have been made but not yet attached to the wings. Images and pages to follow soon.

NOW AVAILABLE



Updates Part 3, 4, 5: CAMP FIRE - Missing in the Chaos - Jan 2020


It has be a very chaotic year+. I've been unable or unwilling to make any updates (after working on a computer for decades, retirement told me to stop for a while). Bullet points follow:
About the time the town of Paradise was opened up, I had a flash of inspiration like happens sometimes. While using my last putty knife it hit me how many putty knives burned up in the fire and how many tools it would take to rebuild the town. In the same flash I decided it would be appropriate to build a Phoenix from my burnt up tools.


My wife, Gwen and I revisited the burnt up property a couple dozen times looking through the ashes collecting tools and silverware.


Gwen used all the social media that I don't to get many people to let us search their properties in Paradise and Magalia for more of the same.


It all funneled back to the apartment I had been hoping to evacuate in December 2018. We probably collected a ton of metal and glass and other [junk].


In early 2019, we temporarily moved into my sister-in-law's Mobile Home in the driveway of some new friends in Chico so we could be a bit closer to Paradise and see if we could finally move out of the bay. The trial run didn't work out that well so we were back to Silicon Valley


Around 31 March 2019, Gwen and I took a burning man related workshop on how to use Flame effects in art safely. (Ironic, I know.) On the second day of the workshop, Dave X of Burning man asked the assembled group to see what they could do to help us out after our losses.
When I said we needed a place to stay, a father/daughter pair of attendees offered to give us a place to live on their 5 acre farm South of Chico.
Long and short-we moved out of Silicon Valley and on to the farm completely by September 2019, along with a ton of burned up Camp Fire remains.
Making ourselves at home, we built decks around the trailer and parked it behind our main trailer, fences to get some privacy from the neighbors, Gwen bought a replacement Casita travel trailer, and begun making a new wire tree to join one I built more than 20 years ago


Lots of news! since last update. Part2: CAMP FIRE - Dec 2018


One of the hardest things about a tragedy is not knowing. We have still not seen our home, but we have finally gotten photos that definitively show what is left after the fire.

Before and After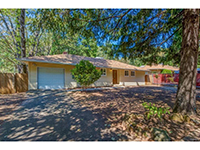 At the moment, our urge is to rebuild, but we need to see what we are up against. It is starting to look like we will be let into our street (for 24hour only!??) sometime soon. - 11dec18 - - - - -

Lots of news! since last update. Part1: Retirement!- Nov 2018


I've been away from this site for too long! Since then, my wife Gwen and I bought a house to retire to, took a trip with family to Europe and retirement for me and my wife! But all that fades from importance compared to the last month and changes I didn't expect to be going through. I'm going to let the words I wrote to my co-workers a few days before Thanksgiving explain. (The photos were not originally part of it):

Bob's November of Good and Bad News

Good News
After 17+ years at Fry's and 50 years of working for a living, I'm retiring the day before Thanksgiving next week! Yay! A year ago, my wife and I bought a beautiful place in northern California up in the hills with beauty and trees and deer everywhere. Since then we've been spending most of our spare time there, moving our possessions, fixing things up enjoying the peace and quiet. I built one shed for my wife. Being the first Out Building I made we named it OB-1. My wife filled all 120 sq ft with piles of Faux Furr Hats, Shrugs and clothing that she has been making/selling for years. OB-2 followed as another 120sq ft of space that became a gallery of the art I've made over the decades. Sculptures in glass and metal and plastic and wood. Neon signs, trophies, photos. OB-3 Was last with room for our camping equipment/holiday decorations and space for doing some exercising. Meanwhile, I rebuilt half of the fence we share with a neighbor, terraced a section of the yard, planted a garden and even gave the dog her own 100sqft patch of grass. Hard to keep working when you have a place to retire to all set with your favorite and most personal stuff. 2 weeks to go till retirement, and 95+% of our stuff has been moved! Bad News
The bad news is that the beautiful house we bought is in Paradise, CA, one of the towns that has been destroyed in the fires this week. In all that smoke outside, some of what you smell used to be our home.

I haven't got proof my house is gone, but I know that neighbors houses on both sides of us have been leveled. Not knowing is the worst thing possible. My wife and I are displaying all the signs of shock and are walking around in a fog since thursday. What's next? I'm still retiring next week and my wife in 3 weeks. Our plans are changing daily, but as of today we will be moving to Oroville, living in my wife's sister's RV for the next year or more. We'd like to re-build our house, but we'll have to see how good our insurance was/is. Since we haven't moved in yet, the house is not declared as our primary residence so the insurance will probably not pay what it should.

There is no infrastructure left in Paradise. No cell towers or power poles, water or sewage. Very few businesses are left standing. The fire has passed our house but is still burning in a bigger circle. The prediction is that I won't even be able to see if my house is still standing for 2 weeks. Power lines won't start arriving until Easter at the earliest. Until water, power, sewage and gas are re-connected we can't even live in the RV on the property. In the meantime, we'll be dealing with our insurance company, mortgage company & registering with the Red Cross (done) and FEMA to see if we can get some help. Ways for you to help
In a few weeks I'll be able to get to the property and begin going through what is left and cleaning up the property. I have none of the stuff I've collected over a lifetime. I had a 2 car garage-turned-shop there filled with tools and supplies that I'm probably going to miss the most in the short term. Do you have 3 shovels but only need 2? Have an extra sledge hammer, axe or pick? If you're someone who has more tools than they'll ever need, I'll gratefully accept your extra yard / construction / deconstruction tools. If I end up with 20 shovels, or hammers, or whatever, I'll pass them out to my neighbors who will be going through the same thing. If you can, contribute to the Red Cross or Salvation Army funds for victims of the Camp Fire. Donating clothes and bedding is really not needed right now. If you want to give directly, giving gift cards to Home Depot or Lowes or other places is a far more useful so people can decide for themselves what they need now. We are also planning on setting up a GoFundMe page – a crowdsourcing site – as a suggestion from a friend who wants to be able to send us money to help with our expenses. We are working on getting that page up and once we do, I will update this note to let you know how you can help if you are able. Any amount is greatly appreciated. Saying goodbye
Up until last week, I had a different note I was planning on putting on this wall. It went something like this: I've just got the news from my doctor that it is certain and fatal. He says I probably have less than 30 years to live, so I've decided to retire now and enjoy my last few days... This isn't the way I was planning on spending the beginning of my retirement, but we are safe and I guess we gotta have something to do! My wife and I are people with skills. At this time, we are planning to not only rebuild our house, but get involved in rebuilding Paradise to help to bring it back to the town we wanted to spend the rest of our lives in. -Bob Marzewski
I'm actually writing this in December, but it has been a crazy couple of weeks mostly on a roller coaster of emotions. My wife Gwen retires in 2 days. We've seen ground level photos of our former home and there is little visible that survived.
That is for the next update coming soon.
Art Party San Jose 24 Sep 2016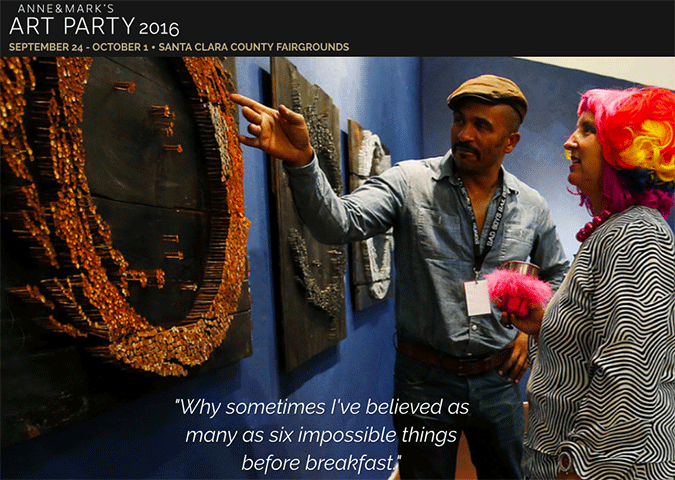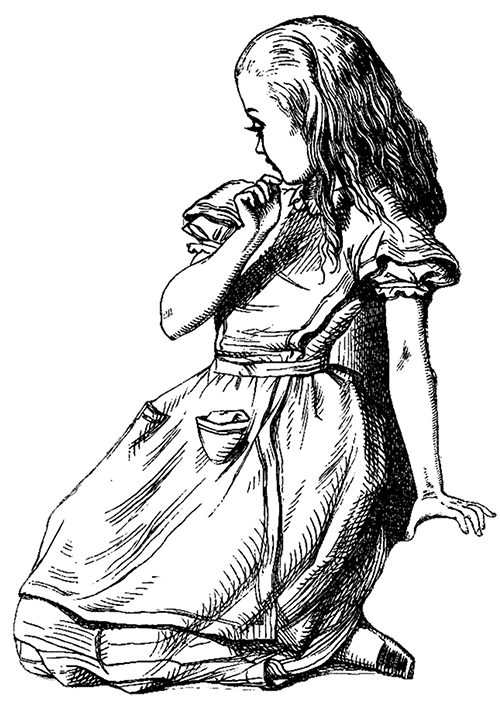 No burning man project this year. Instead, building a giant rabbit hole entrance to Anne & Mark's Art Party.

Click image above to see blog post on their site about my wife Gwen and I who are building and decorating a great sbig hole.

Link to images/story of the Rabbit Hole project, the art in the Pavilion Gallery and the Fashion Show now available!




Maverick's Competition, 12 Feb 2016





Nine hours on a boat watching the awesome waves of Mavericks followed by the Awards ceremony to see who got the Trophies I built. An excellent day!




Burning Man 2015 project: Sun Tower

(September 2015)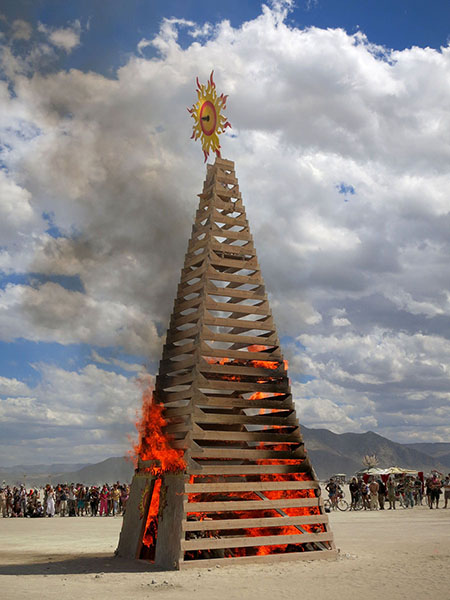 Results: We tried for about 20 minutes to use sunlight to catch it on fire unsuccessfully. Then I pulled a couple road flares out of my back pocket and approached the crowd and asked "How about plan B?", to which the crowd cheered and I lit the tower from the bottom.




Burning Man 2015 project: Sun Tower

(June 2015)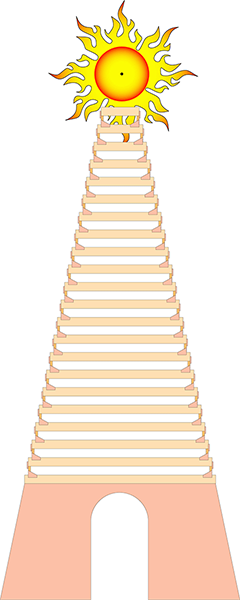 2228 year or so after Archimedes is said to have destroyed an attacking Roman naval fleet using mirrors, we will bring the Sun Tower to the playa and try to set it on fire the same way.

This 32' tall climbable tower will have an 8' sun shaped mandala at the top. On Friday around 1pm, hundreds of participants around the perimeter will be given mirrors to reflect sunlight at the center of the mandal where a target wad of cannon fuse will catch fire and set the rest of the tower alight.



Mavericks 2015 Trophies

(March 2015)
Mavericks is a special surf spot a mile off the coast of Half Moon Bay, CA. Most winters, storms coming in from Alaska raise waves that can range up to 50' tall or more. Mavericks was first challenged in the 1960s by a handful of brave surfers and by 1999 the first competition was held there. In Northern Califonia, where I live it is a place of legend.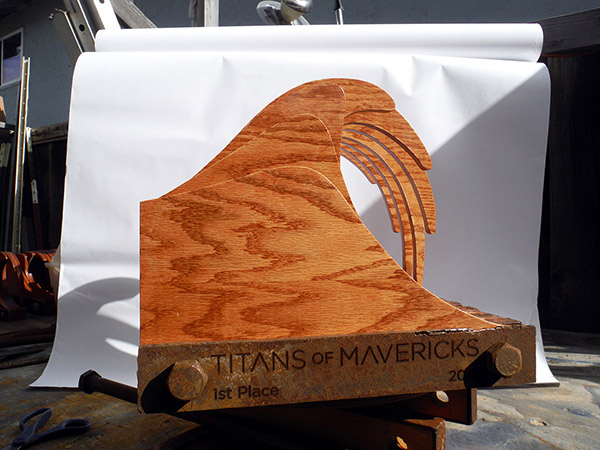 Before burning man 2014, I was contacted by Griffin Guess of Cartel-Management. His Marketing company is currently promoting the Maverick surf competition, and after seeing the model for Cruz the Wave (see below) he asked if I might be interested in making trophies for the competition. A month or 2 after BM 2014, we hooked up and I began making trophies for 1st, 2nd and 3rd places as well as a special trophy honoring Sion Milosky.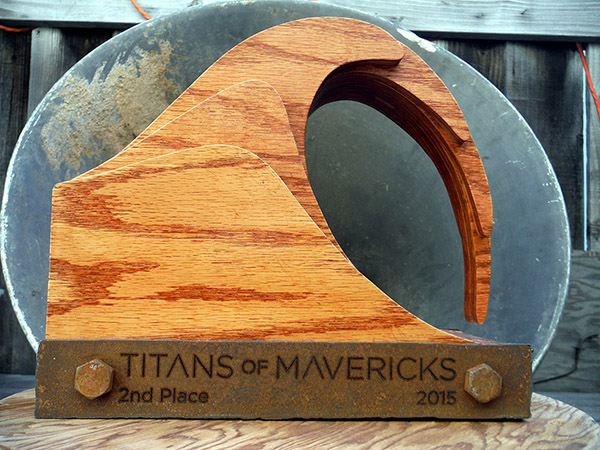 Now that they have started to display the trophies I've made on their facebook page, I can show most of the images I took while building these trophies. I am very proud of how they came out and want to thank Cary McHugh for all the metal work he did as well as John Schiesel for the use of his shop and his help with the finishing of the trophies.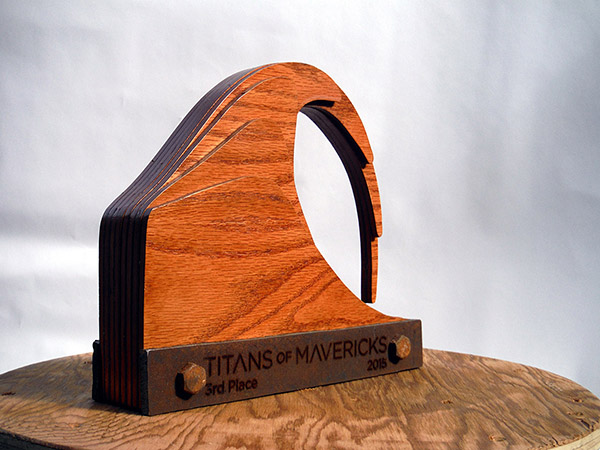 Click any of the trophy images to see more photos and some of the steps in the making them.

See the Titans of Mavericks web site and their FaceBook pages for more info.


Cruz the Wave: building a big wooden surf wave for Burning Man 2014 with Santa Cruz Burners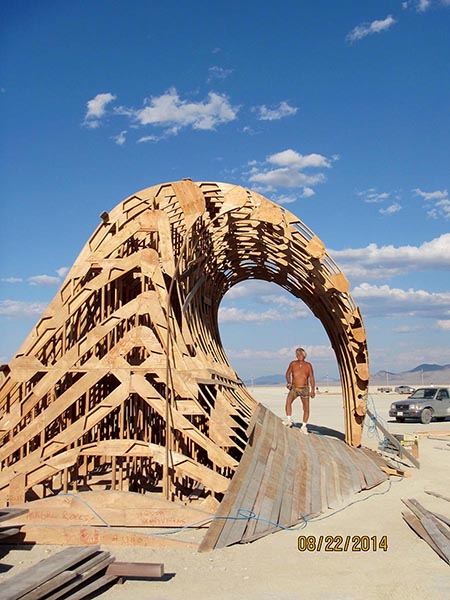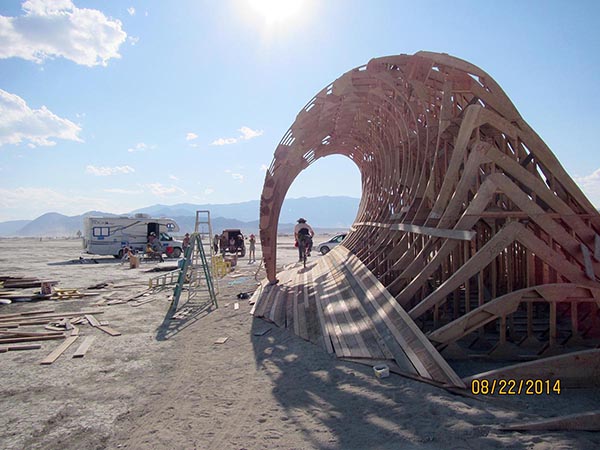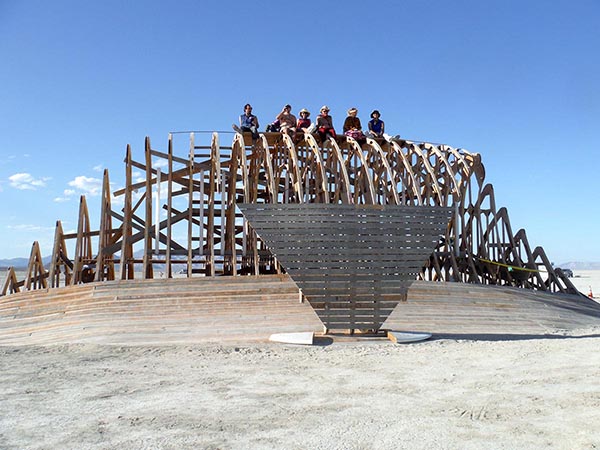 One of the prototype models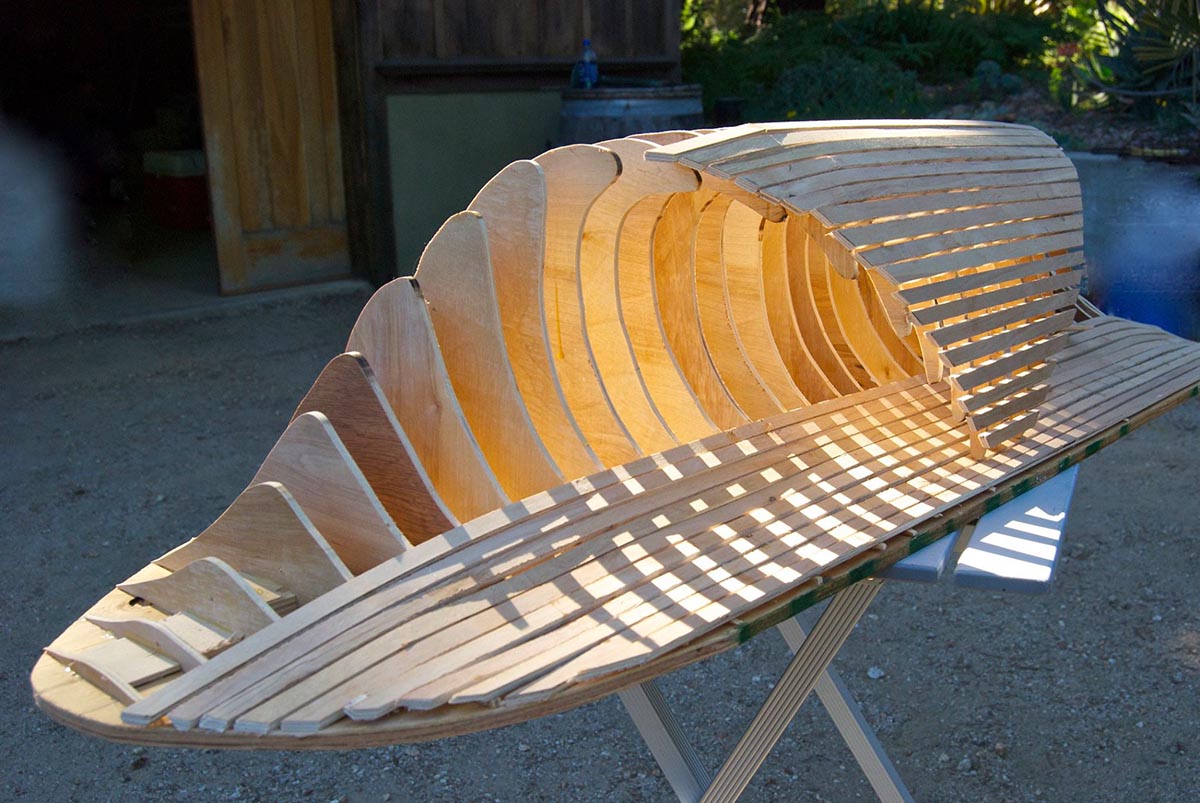 Getting married under the arch at Burning Man 2013! (28 Aug 2013)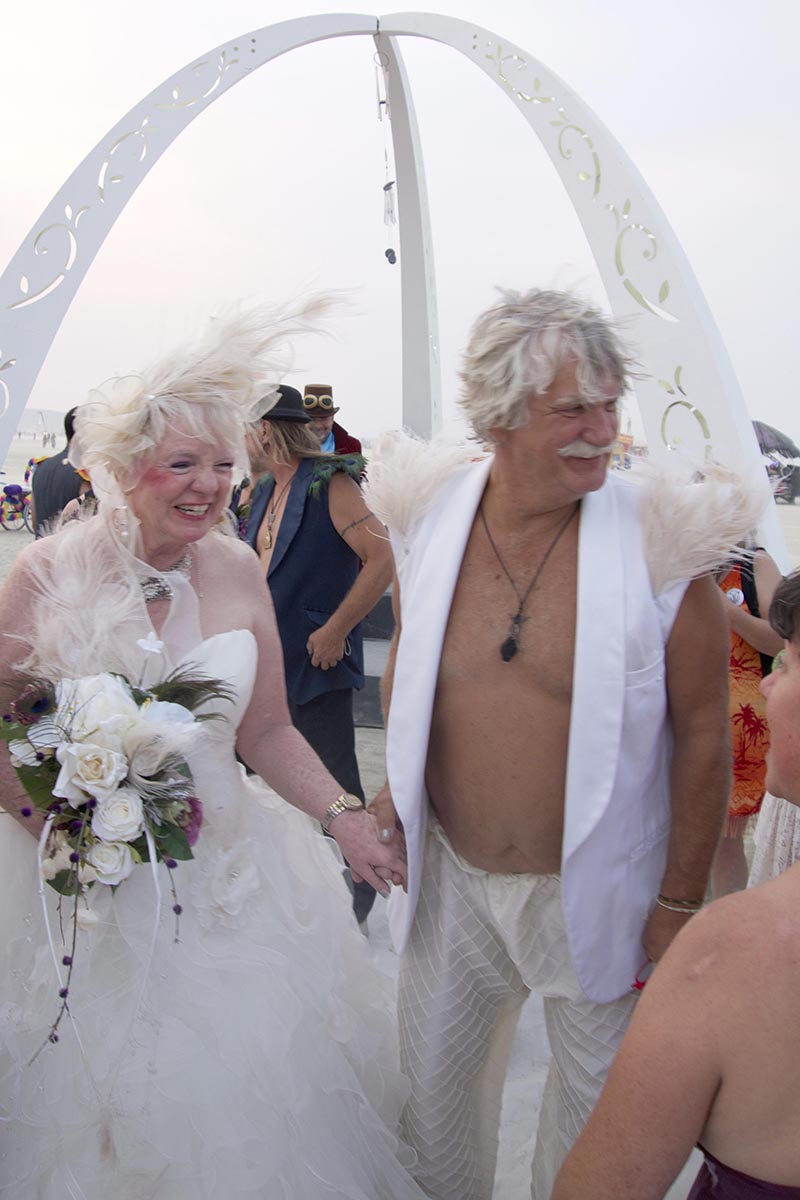 2013 brings my marriage to Gwen (Atta Girl) Jester at Burning Man. I am building a wedding arch as the locale for the ceremony. You are invited to attend.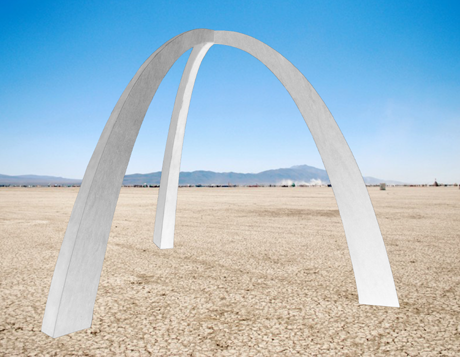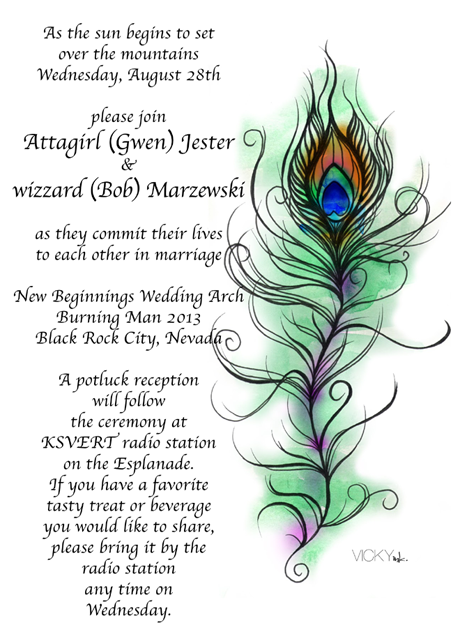 2012 brings my most complicated burning man project yet: the Mayan TRIcycle.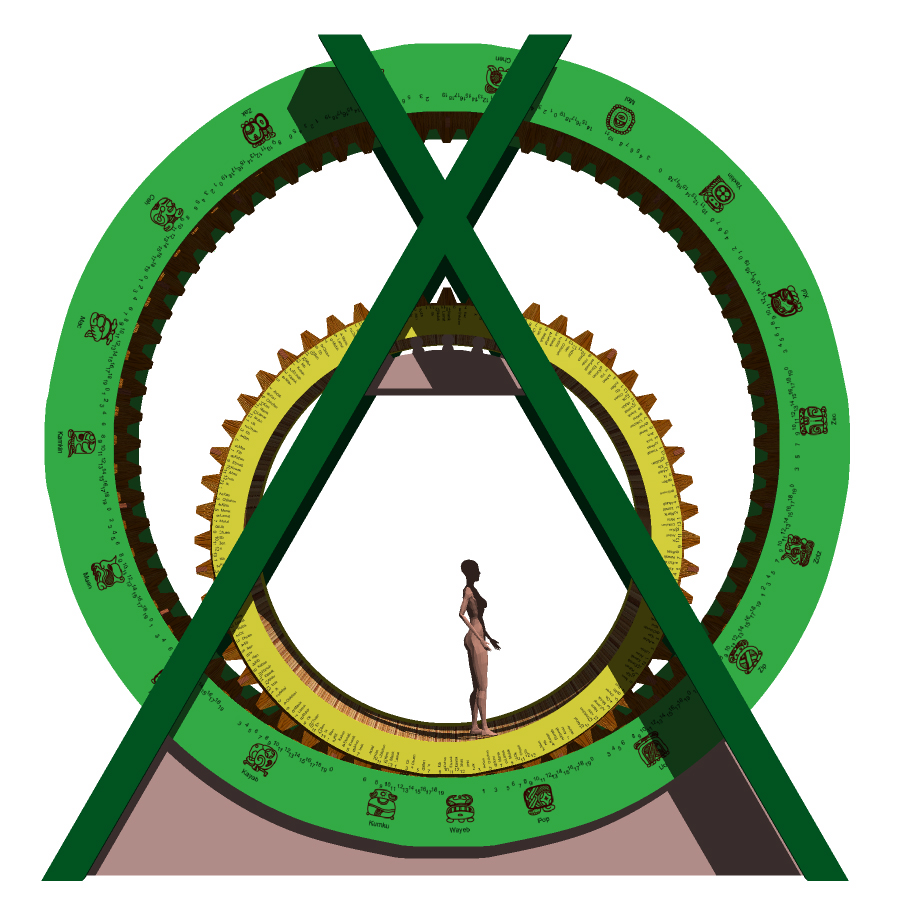 My hope is to help others understand how the Mayan Calendar works and to help alleviate the fears that many have that the world as we know it is going to end on December 21st when the calendar 'ends'.  I believe that the cycle is just turning over, much like the odometer in your car does.

To show this in a dramatic and fun way, I am planning on building the Mayan TRIcycle.  The 260-day Tzolkin Calendar will be a 13' tall wheel, driven/rotated by humans running inside the wheel.  The 365-day Haab Calendar will be a 22' tall wheel that the Tzolkin calendar wheel is cradled in.  Together the two wheels will rotate and will advance the Long Count "Odometer". 
 
I'm still designing how the final piece will look and function. I've built thigs this big before, but not anything that will need this level of precision to work. I need help both in people with skills and in raising money to bring this project to the desert this summer. Please take a look here to learn more. If you'd like to contribute to this effort, go here:
MayanTricycle


[2011] Before the blog and social neworks existed, nerds had their own domains. This one is mine. It's been in nearly continuous operation since 1995.
I started using computers in 1968 when in high school. We had a first generation vacuum tube computer the size of a CEO's desk that would heat the classroom in Michigan in the middle of the winter. We also had a terminal with paper tape puncher/reader and a 300baud modem hooked into a computer at Ford Motor Company many miles away. We paid a fee for the connect time and much more for 'think' time when the processor actually computed our programs.

My how times have changed! Even though my computer is several years old, it packs more power than that Ford computer 40+ years ago and my lousy Comcast connection is hundreds of times quicker. Everyone has a presence on the internet.
Oh, yea I do have my own blog.


Burning Man Pages

I'll be going back to Burning Man for the 14th year in a row. This year without my own art piece, I AM helping with a couple of the CORE projects that will ring around the man this year.

Take a look at some of my past projects

Hard to pick favorites

1.)
2004
The Pagoda of Infinite Reflection
the tallest and best piece I've made on the desert
2.)
2003
..a place to stand...
and the movie that made me a movie star
3.)
2008
THE END
my last art project (til next year that is)
4.)
2006
Intellingent Design
which returned in 2009

Current projects

the text that goes here is a quick 2 or 3 line summary of what someone is likely to see if they click on the more link to follow...

I've always got too many irons in the fire

1.)
The Girls
Start with a thousand things, form them into the shape of a human torso, and this is what you might get.
2.)
CORE
Prototypes for this year's burning man project
3.)
Re-Doing This WEB SITE!!
Been trying for year to make big changes.
Going to unroll it before all the corners are done or it will never happen.
Globes

Stuff I can't hardly find anymore

the more I dig around, the more stuff I find.

Imagine if YOU had been tucking stuff away for 20 years online!

This list could go on forever